Tax Policy – A Visual Guide to Unemployment Benefit Claims
On March 26, weekly initial unemployment benefit claims hit the highest level in U.S. history, with five times as many filed as during the worst week of the Great Recession. Mandatory business closures and shelter-in-place orders have radically accelerated job losses compared to the steadier pace of layoffs in prior recessions, meaning these claims likely represent a far greater share of the ultimate total than did any week's claims during the Great Recession. But the numbers are still staggering, with every likelihood of sobering numbers in coming weeks as well.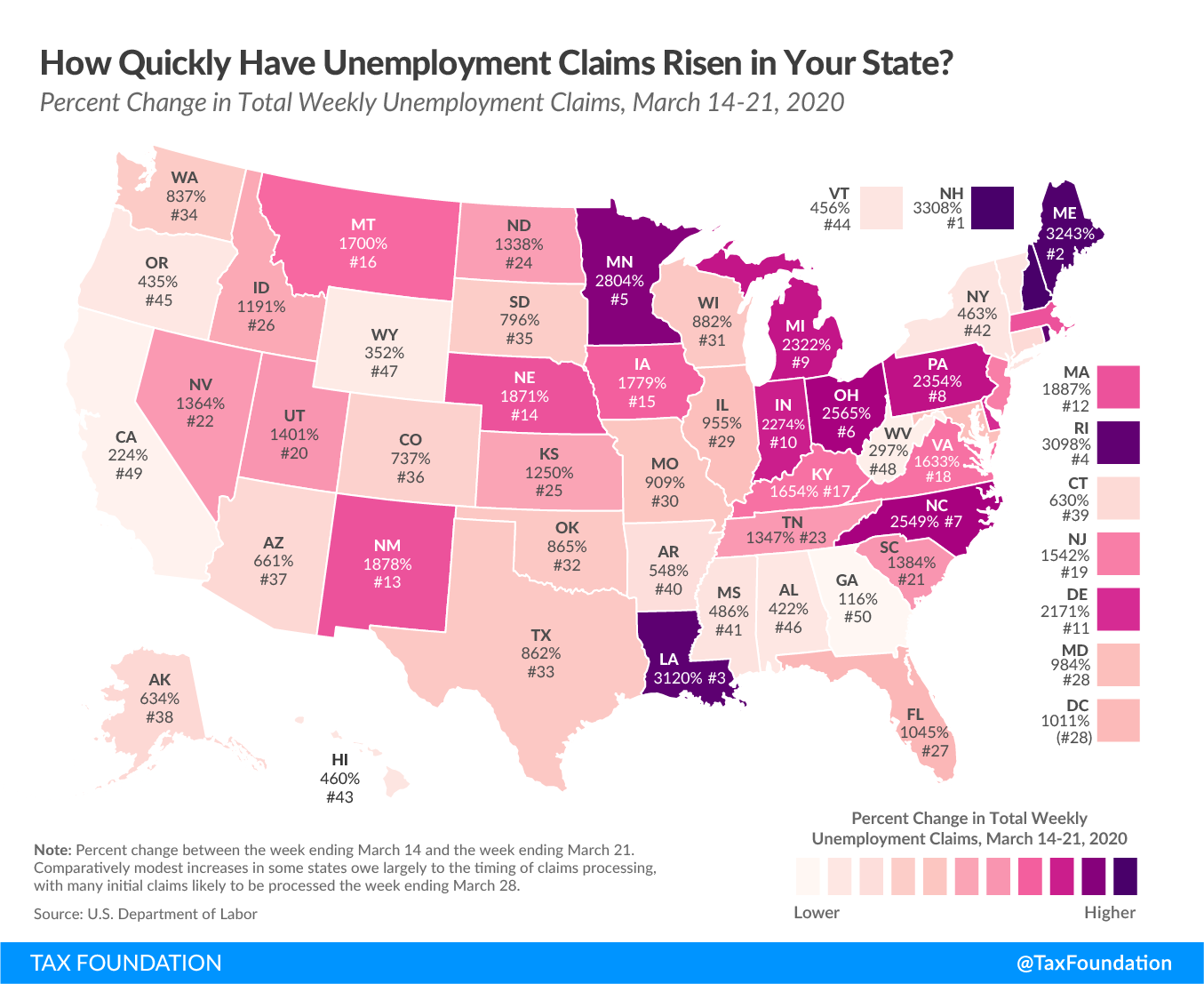 Our interactive tool allows you to see how initial unemployment compensation claims in each state compare to average and peak weekly claims during the Great Recession. States vary in how quickly they process and report claims, so some states are "ahead" of their peers in reporting substantial increases, and differentials across states may be questions of timing rather than in the effects of the economic contraction.
Many states are woefully unprepared for the magnitude of the challenge ahead. Entering the crisis, 21 states' unemployment compensation trust funds were below the minimum recommended solvency level to weather a recession. Six states had less than half the minimum recommended amount, representing 37 percent of the U.S. population.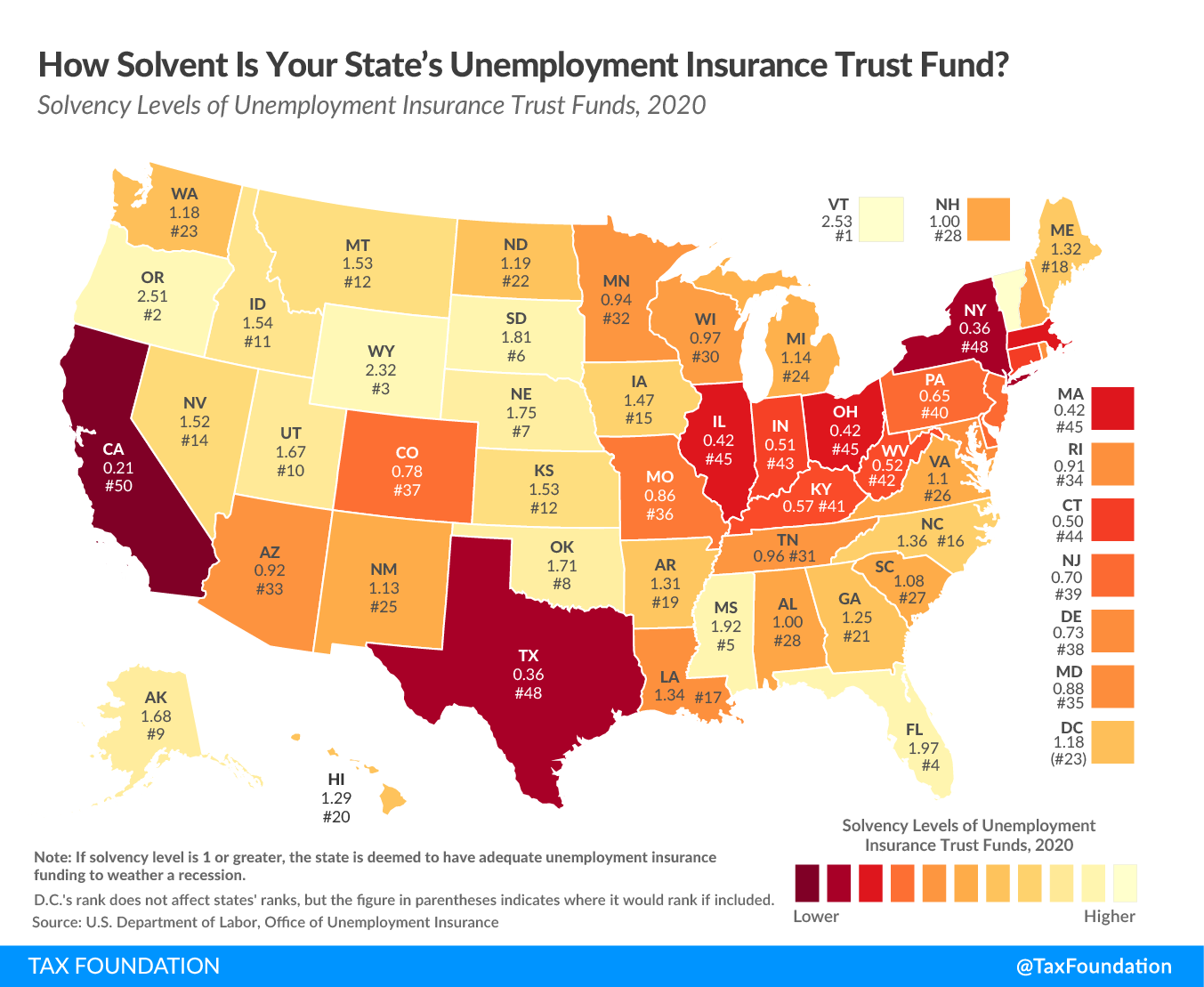 As more firms lay off employees and unemployment increases, states' unemployment insurance taxes will rise on businesses that can least afford to pay. As states receive federal assistance to aid with unemployment benefits, it may be appropriate to provide some measure of relief to businesses as well, particularly to the extent that their layoffs were precipitated by business closure orders.
Explore your state's data on our interactive tool below.
Table 1.  Weekly Unemployment Claims During the Great Recession and 2020 Coronavirus
 
Great Recession, Average Weekly Claims
Great Recession, Peak Weekly Claims
Week Ending March 21, 2020, Total Weekly Claims
United States
482,266
956,791
2,898,450
Alabama
6,679
20,894
9,490
Alaska
1,730
4,160
8,225
Arizona
5,922
11,178
29,268
Arkansas
5,077
10,489
8,958
California
58,695
95,705
186,809
Colorado
3,525
7,284
19,429
Connecticut
5,102
13,023
25,098
Delaware
1,235
3,051
10,720
District of Columbia
426
1,287
13,473
Florida
17,967
40,403
74,021
Georgia
14,156
41,522
11,746
Hawaii
1,793
3,211
8,904
Idaho
2,749
7,303
13,314
Illinois
17,760
34,524
114,663
Indiana
10,891
28,616
61,635
Iowa
5,293
13,865
41,890
Kansas
3,913
18,064
23,687
Kentucky
7,974
25,057
48,847
Louisiana
3,783
28,080
72,620
Maine
1,678
5,634
21,197
Maryland
5,775
12,031
41,882
Massachusetts
8,881
22,028
147,995
Michigan
22,013
76,702
129,298
Minnesota
6,720
15,195
116,438
Mississippi
3,477
9,420
6,723
Missouri
9,227
21,413
40,508
Montana
1,433
3,837
14,704
Nebraska
1,637
3,780
15,668
Nevada
4,765
8,945
93,036
New Hampshire
1,413
3,594
21,878
New Jersey
12,255
24,095
155,454
New Mexico
1,478
3,308
17,187
New York
24,033
54,805
80,334
North Carolina
17,175
56,647
93,587
North Dakota
610
2,332
5,968
Ohio
16,945
40,829
187,784
Oklahoma
2,867
6,196
17,720
Oregon
9,316
20,916
22,824
Pennsylvania
28,262
59,669
378,908
Puerto Rico
3,519
7,267
1,471
Rhode Island
1,855
3,987
35,436
South Carolina
7,730
22,548
31,064
South Dakota
463
1,382
1,703
Tennessee
8,398
30,753
39,096
Texas
18,092
49,398
155,657
Utah
2,112
5,205
19,591
Vermont
1,016
2,860
3,667
Virgin Islands
65
235
58
Virginia
7,098
21,862
46,885
Washington
11,091
26,075
133,478
West Virginia
1,747
4,368
3,435
Wisconsin
16,025
35,885
50,957
Wyoming
565
1,483
2,339

Source: U.S. Bureau of Labor Statistics

Source: Tax Policy – A Visual Guide to Unemployment Benefit Claims